Chiropractor Kenneth Womboldt D.C.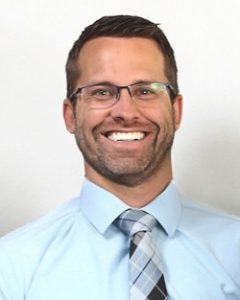 Dr. Kenneth Womboldt is the owner of Alternative Wellness & Chiropractic Center. He came to Clinton, Iowa after practicing chiropractic in Omaha, Nebraska. He is a graduate of Palmer College of Chiropractic.
As a Doctor of Chiropractic, Dr. Ken enjoys helping his patients take control of their health by choosing wellness care. He is very happy to help patients prevent back surgery by treating them with spinal decompression. Additionally, he takes pleasure in seeing patients of all ages get relief from many health conditions such as migraines, headaches, and low back pain. It is especially exciting for him to see his patients prevent many health conditions by receiving regular chiropractic care.
One of Dr. Ken's most rewarding experiences is to get to know families as they take a preventative approach to their health. He feels very happy to be able to help children with conditions such as asthma and earaches. He also enjoys preventing and treating sports-related injuries that are so common in young adults participating in sports activities.
| | |
| --- | --- |
| Monday | 8:00am - 5:30pm |
| Tuesday | 8:00am - 5:30pm |
| Wednesday | 8:00am - 5:30pm |
| Thursday | 8:00am - 5:30pm |
| Friday | 8:00am - 12:00pm |
| Saturday | By Appointment Only |
| Sunday | Closed |
Saturdays We are Open:
October 7th
November 4th
December 2nd
January 6th
February 3rd
Hours: Starting at 8am by appointment only.